If you are a chiropractor interested in joining the NZCA
please click on the link below.
"NZCA members are collegial, ethical, contributing and conscientious.
They adhere to sound business principles and practices.
They embrace reflective lifetime learning and deliver evidence based clinical excellence.
Members demonstrate a passionate understanding and recognition of the unique contribution of the science, art and philosophy of chiropractic.
As students, practitioners, researchers and teachers, they are partners in New Zealand health care"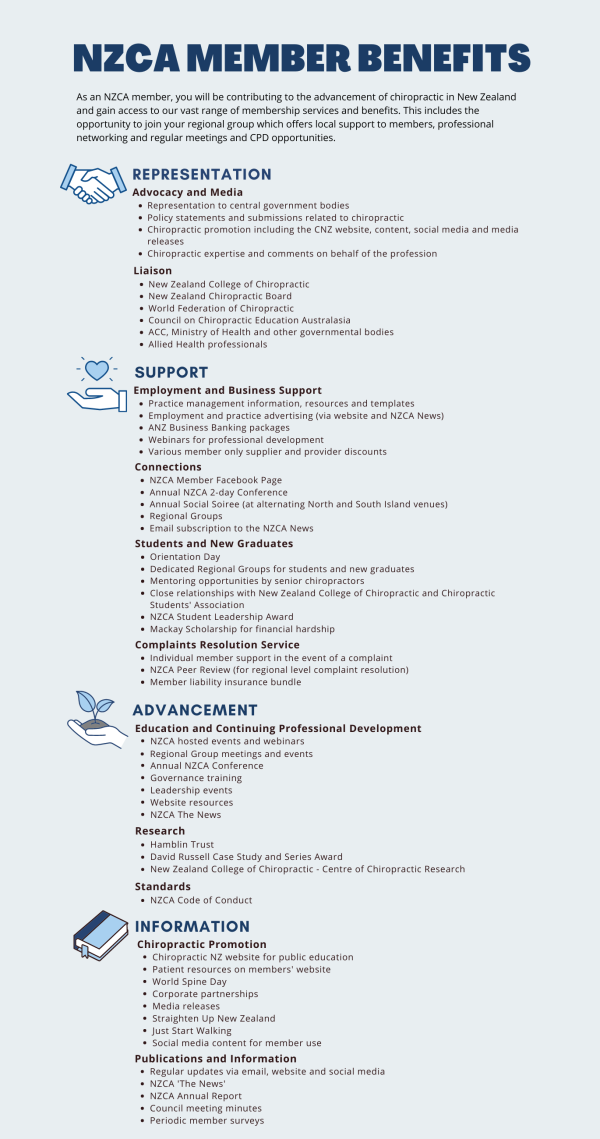 Some common membership options are (not a full list):
Ordinary Member - the most common category - annual membership subscription 2023-2024 is $999.74 + GST
New Graduate Member (Student Members of the NZCA receive discounted fees for up to 18 months following graduation)
Spouse Member (Spouse of an Ordinary Member, receive discounted fees)
Senior Member (minimum 25 years membership, upon application)
Chiropractic Assistant (CA) (works with the chiropractor, the go-between to efficiently manage clients and staff)
Associate Member (chiropractor based overseas and not practicing in NZ)
It is a requirement of membership that all members hold current Professional Indemnity (PI) insurance cover if practising.
The insurance fee is additional to the subscription above.
The NZCA has an excellent and very affordable group insurance cover policy that includes (PI) insurance for our members. We can arrange insurance cover at time of membership application. If you choose not to use our group insurance policy it is a requirement to provide proof of current PI insurance that covers your membership year.

If you are a chiropractor interested in joining the NZCA
please log in to the website and complete an application here
For enquires
Email the Secretary
Lynda Colligan
secretary@nzchiropractors.org

or the National Operations Manager
Patricia Warhurst
0800 006 922
or +64 27 2460114