Have you noticed that your animal may not be as happy or outgoing as it used to be? Like people, animals also suffer from joint restrictions (subluxations) that lead to muscle imbalances, neurological impairment and added stress to other joints. It makes sense that if people can benefit from chiropractic, so can animals.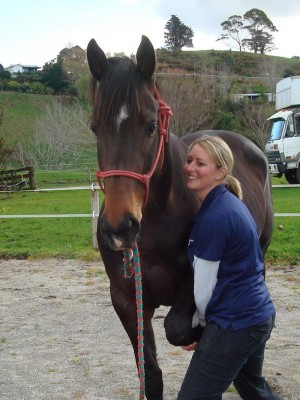 How do you know if your animal might need chiropractic care? Some of the signs can be very subtle, or there could be an obvious lameness. One of the first things people notice in their pets is a change in behaviour. Your dog may not want to jump up into the car or onto the couch as readily as it has done in the past. Your cat might get grumpy when you stroke it's back, or your horse might start misbehaving when being saddled up and ridden.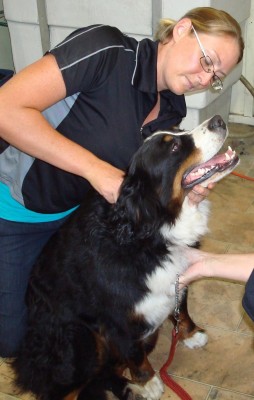 Chiropractic does not replace traditional veterinary care, however it does offer additional options in diagnosing and treating musculoskeletal and biomechanical problems in animals. Applying a gentle chiropractic adjustment to the specific joint that has decreased motion can restore proper movement, relax muscles and have pain relieving effects*. Because of this your animal could be happier and healthier; there can also be an improvement in competitive performance and prevention of injury or lameness occurring in the future.
How do you choose an animal chiropractor? Be sure to check that the chiropractor is fully qualified, as only they are specifically trained to locate and correct dysfunctional joints in animals.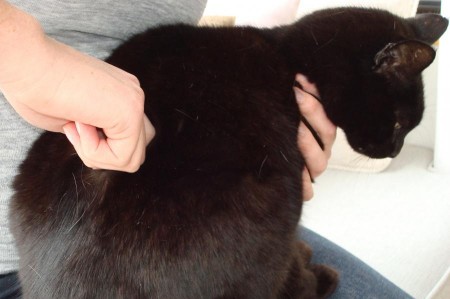 List of NZCA Animal Chiropractors
Enquire of your own human chiropractor to see if they will treat animals - sometimes they will. Otherwise feel free to contact our specialist animal chiropractors.
Dr Kirsten Laurence
Equinox Animal Chiropractic, Bay of Plenty
Ph: 021 674 552 Email: kirsten@equinoxchiropractic.co.nz: Web: http://www.equinoxchiropractic.co.nz/
Small animals and equines.
Dr Todd Keenan
The Chiropractice/ Small Animal Chiropractic 96 Franklin Rd,Ponsonby, Auckland
Ph: 09 361 3825. Email: Info@thechiropractice.co.nz; Web: http://www.thechiropractice.co.nz/animal-chiropractic/
Small animals.
Dr Joy White
Select Health, Canterbury
Ph: 03 313 0350, Email: selecthealth51@outlook.com, Web: www.equineselecthealth.co.nz.
Equines.
Dr Miranda Moorghen
Ph: 022 072 3865, Email: Miranda.Moorghen@gmail.com,
Small and large animals and equines.
Dr Julia Thomson
Hamilton area
Ph: 0276 972 211, Email: juliathomson@outlook.com,
Small animals and horses.
Dr Julia Churchill
Liberated Chiropractic, Auckland
Ph: 021 206 9900, Email: info@liberatedchiropractic.nz, Web: www.liberatedchiropractic.nz.
Equine, small and large animals.
Dr Jonny Wade
Bays Chiropractic, Mairangi Bay Auckland
Ph: 09 478 6578, Email: Jonny@bayschiro.co.nz Web: www.bayschiro.co.nz.
Dogs.
Dr Dan Fogarty
Internationally qualified Animal Chiropractor.
Two Hands Health Ltd, based in the Nelson/Tasman region and happy to travel.
Ph: 03 669 2018, Email: chiro@twohandshealth.com, Web: www.twohandshealth.com.
All animals: small, large and exotics.
Dr Madeline Patten
Back to Back Chiropractic, Auckland based (happy to travel).
Certified by The International Academy of Veterinary Chiropractic, VCS registered.
Ph: 0204 185 5355, Email: madeline@backtoback.co.nz, Web: www.backtoback.co.nz
Equine and equestrian focused, large and small animal chiropractor.
Dr Tina Leone Chesapeake
Certified Animal Chiropractor, services provided throughout New Zealand
E: MyChiropracticInfo@gmail.com, W: www.kawerauchiropractic.com

Dr Thierry Mazer
Orewa, Auckland.
Ph: 09 426 4545 Email: office@orewachiropractic.co.nz; Web: orewachiropractic.co.nz Small pets.
Dr Maree Heading
H+D Chiropractic, Greater Wellington area.
Small and large animals and equines