Come to fabulous New Plymouth for the 2021 NZCA Conference!
18-20th June 2021
* Registrations OPEN *
2021 NZCA Conference will be full of excitement and activity.
A great chance to catch up after a long locked down year in 2020!
There is a great line-up of speakers:
We have world renowned researchers from Canada coming to us via Zoom. Professor Bernadette Murphy and Associate Professor Paul Yielder are keynote speakers, specialising in neurophysiology. Bernadette is currently interim Dean of the Faculty of Health Sciences at Ontario Tech University. She is director of the Human Neurophysiology and Rehabilitation Laboratory. The overall theme of her research is neural plasticity in humans. Paul is inaugural Chair and Professor of Medical Imaging in the School of Medicine at Deakin University in Melbourne and also Associate Professor and Vice Chair of the REB at Ontario Tech University Canada.
We have the international consultant and speaker to corporate and government clients, Mr Marvin Oka, from Melbourne. Marvin specialises in Neurolinguistics, Neuro Behavioural Modelling and behavioural change technologies. He is a certified NLP (Neuro Linguistic Programmer) Master Trainer and much much more. Marvin will be joining us via Zom to present an interactive session.
Lisa Tamati, ultra marathon runner, will give a hugely inspiring and motivational presentation. Lisa will be attending the conference in person.
Other presenters, attending the conference in person, include neurological case studies, paediatrics, and research presentations. There are a range of fabulous NZ based speakers on a wide range of topics along with a research update.
Check out the 'Conference Speakers' page for details and bios.
The CA stream on Sunday morning includes several workshops, with a great lineup of speakers to educate and enthrall.
Check out the 'CA stream' page.
There will be an update on the Colmar Brunton survey results (both from the public and other health professionals), with an opportunity to workshop some solutions.
As well as a presentation on the new Chiropractic New Zealand branding, promotion and website.

We are using the Whova app for maximum delegate interaction, gaming, prizes, virtual trade exhibits, community board (you can share transport from Auckland or the airport with your colleagues or plan to share accommodation well ahead of the event!) and more.
We are obviously aiming to be face to face for this conference but if needs be we will be pivot to live streaming if necessary.
This year we are also offering a livestream option for those members who can't manage to attend in person.
It will be great to catch up with all those colleagues we haven't seen for a long time!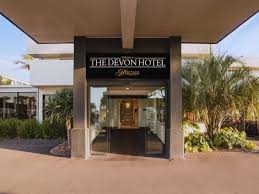 The Conference will be held at the Devon Hotel which has recently been refurbished so is very slick, with many amenities such as outdoor gardens, heated outdoor pool and spa (pack your togs), outdoor sculptural artworks and the busiest buffet restaurant in the country. Check out the 'Accommodation' page for Devon Hotel information and the NZCA member code for discounted rates (we have been promised the rates will not be beaten on any other sites).
New Plymouth itself has many attractions so if you can allow some extra time to check out all the fascinating places in this area.
This will be a great time to catch up with friends and colleagues after a hard 2020.
Checklist before you register
Read the conference pages to learn what is on offer.

Confirm who will be attending. Chiropractors, associates, CA's.

Do you need an extra ticket for your partner for the Rothbury Awards on Friday?

Take advantage of the Early Bird Discounts.

Click the 'Register' or 'Register for Event/Purchase Tickets' button to book your place.